CRISTALENS is a renowned French manufacturer in the ophthalmology industry, with total control of its business from the development of the raw material through to packaging.
INNOVATION
We include Doctors of Chemistry and Optics, as well as Optical and Biomaterials Engineers in our Research and Development Team.
PATIENT SAFETY
We work primarily with ISO-certified suppliers with recognised reliability in the ophthalmology industry. Our production unit benefits from high-performance clean rooms for pre-cleaning, polishing, optical control and final inspection of its manufacturing processes.
CRISTALENS INTERNATIONAL devices have obtained the CE 0459 marking CRISTALENS is also ISO 9001 and NF EN ISO 13485-certified.
PRODUCTION
The company has integrated all of the lens production phases into its production process in order to have total control over all products. This is achieved by focusing on:
Design
Raw material polymerisation
Cryo-machining
Inspecting each lens in the clean room
Logistics
This ensures total independence and real added value!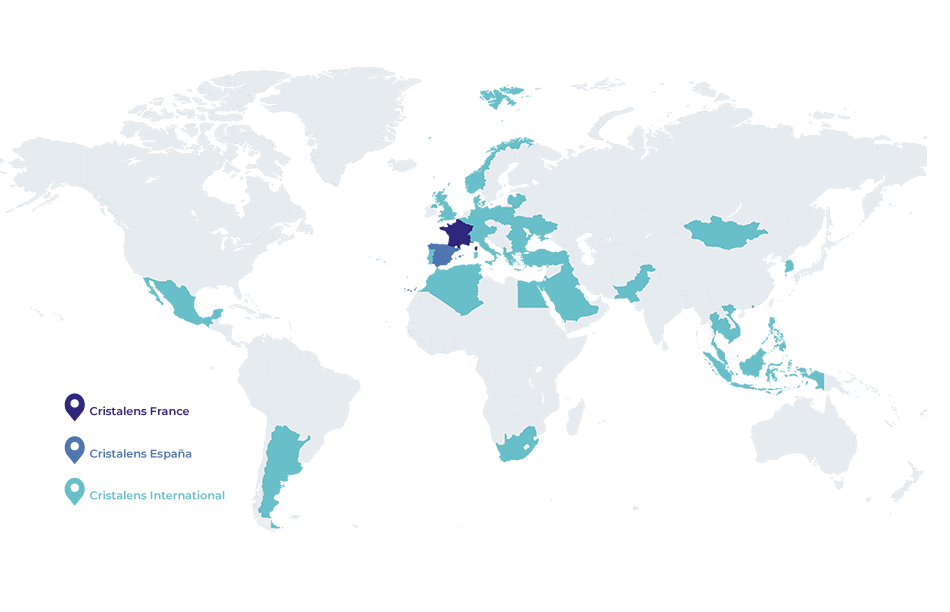 CRISTALENS INTERNATIONAL is continuing its export development strategy by constantly expanding its network of international distributors. More than 50 countries are currently listed in Europe, Asia, the Middle East and South America.
CRISTALENS also has various departments to support the company in its ongoing development.
A regulatory department ensures compliance with current standards and monitors regulatory changes.
A marketing department supports the market launch of its medical devices and boosts the company image.
A commercial team dedicated to export.
A VISIONARY, INNOVATIVE…
AND ACTIVELY SUPPORTED COMPANY
In 1998, CRISTALENS was granted "Dispositif sur mesure" (Custom-made Device) approval by the French Department of Health. This recognises the fact that the company can manufacture lenses at powers that are not generally available in most laboratories and can be adapted for eyes with unusual characteristics.
In 2013, CRISTALENS INTERNATIONAL was awarded the " Prix de l'innovation industrielle" ("Industrial Innovation Prize" for the Brittany region and Oséo.
In 2017, CRISTALENS INTERNATIONAL received a €150,000 grant from BPIFRANCE and the Brittany Region.
In 2020, CRISTALENS INTERNATIONAL received funding to the tune of €1.6M as part of the European Commission "Horizon 2020" programme.